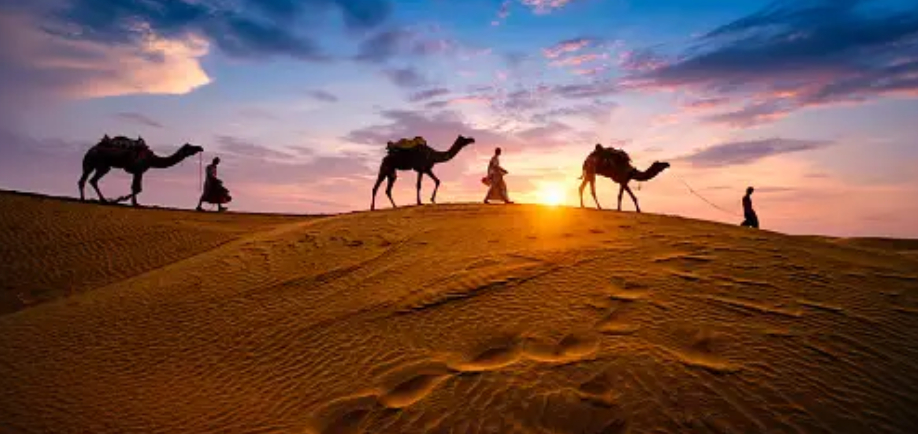 Royal Desert Triangle Tour
Duration : 05 Nights & 06 Days
In this tour, you'll delve into the rich history and royal heritage of Rajasthan, exploring the majestic forts, opulent palaces, and bustling markets that have stood the test of time. Each city on this triangle tour boasts its own unique charm, leaving you mesmerized by their distinct identities.
---
Itinerary
---
Day 01: Arrival in JAIPUR


Upon arrival at Jaipur check in at hotel. Late Afternoon Optional visits of Birla temple & local bazaar.
Overnight at Hotel.
About Jaipur: Popularly known as Pink city in Tourism world, pink color is associated with hospitality in Rajasthan. So it is only appropriate that Jaipur, the Capital of the state be washed in this shade-spreading out the Pink Carpet for visitors. Planned by a young Bengali architect, Vidyadhar Bhattacharya, Jaipur was built by Maharaja Sawai Jai Singh II in 1727 A.D. Laid in a grid system, with straight avenues, roads, streets, lanes criss cross the city with rows of shops on either side of main bazaars arranged in nine rectangular city sectors (Chowkris). The planning of the city followed the principles of Shilpaslastra, an epochal treatise on Hindu architecture.
Overnight at hotel in Jaipur.
---
Day 02: JAIPUR
After breakfast leave for an excursion to the Amber fort (Elephant ride optional).
After noon Visit of Pink City inclusive of City Palace & its museums, Hawa Mahal (the famous landmark of the city), & Observatory popularly known as Jantar Mantar (World Heritage Monument) Back to the Hotel. Rest of the time at leisure.
(Optional Dinner at Chokhi Dhani Supplement given separately) Overnight at Hotel in Jaipur.
---
Day 03: Jaipur – Jodhpur (330 Kms 5-6 Hours)


After breakfast drive to Jodhpur Enroute visit of Pushkar visiting holy lake of Pushkar & its temples.
After visit drive to Jodhpur.
About Jodhpur: Jodhpur history revolves around the Rathore Clan. Rao Jodha, the chief of the Rathore clan, is credited with the origin of Jodhpur in India. He founded Jodhpur in 1459. The city is named after him only. It was previously known as Marwar. Upon arrival check in at hotel.
Overnight at hotel.
---
Day 04: Jodhpur – Jaisalmer (280 Kms & 4-5 hrs drive)
After breakfast drive to Jaisalmer, Upon arrival check in at hotel.
Evening visit Royal Cenotaphs.
Overnight at Hotel in Jaisalmer.
---
Day 05: Jaisalmer – Sam Sand Dunes (45 Kms & ½ hrs drive)


After breakfast leave for full day sightseeing, which includes Jaisalmer fort & temples, Salim Singhji's & other havelis. Evening drive to Sam sand dunes (45 kms one hour). Camel ride during the sunset; traditional Rajasthani music & folk dances & Dinner at Camp site.
About Jaisalmer: Founded in 1156, Jaisalmer's strategic position on the camel-train routes between India and Central Asia brought it great wealth. The merchants and towns people built magnificent houses and mansions, exquisitely carved from wood and sandstone. Jaisalmer experienced its share of sieges and sackings, with an inevitable Rajput jaguar in the 13th century after a siege that lasted eight years.
Overnight at Camps in Sam.
---
Day 06: Jaisalmer- Jodhpur - Departure (280 Kms 5-6 Hours)

After breakfast drive to Jodhpur; upon arrival check in at hotel.
After noon you will be taken for visit Mehrangarh Fort, Jaswant Thada and famous spice market. Overnight at hotel in Jodhpur.
---
Day 07: Jodhpur - Jaipur (330 Kms 6/7 hours)
After breakfast drive to Jaipur and upon arrival transfer to Airport to connect onwards flight.
---