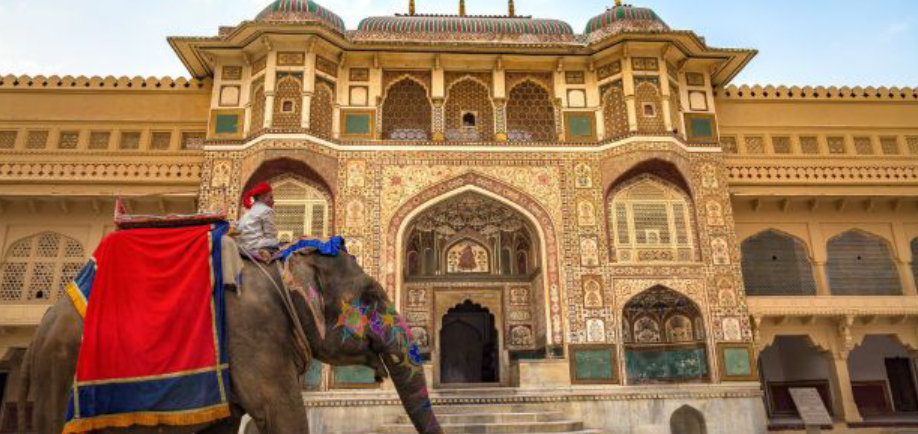 Colors Of Rajasthan
Duration : 11 Night & 12 Days
Welcome to the Colors of Rajasthan Tour, an immersive odyssey through a vibrant kaleidoscope of hues, where the very essence of this enchanting land is woven together by its rich culture, lively traditions, and stunning landscapes.
The Colors of Rajasthan Tour is a celebration of life, a journey where each day unveils a new spectrum of experiences. Come, let us paint your memories with the hues of Rajasthan and create a masterpiece that will stay etched in your heart forever.
---
Itinerary
---
Day 01: Mumbai/Jaipur (by flight or Train)


Morning drive to Mandawa, a small feudal Upon arrival at Jaipur Airport you will be meet and assist by our representative and Transfer to Hotel. Check in at Hotel. Free visit of Local Bazar & back to the Hotel. Overnight at Jaipur
About Jaipur: Popularly known as Pink city in Tourism world, pink color is associated with hospitality in Rajasthan. So it is only appropriate that Jaipur, the Capital of the state be washed in this shade-spreading out the Pink Carpet for visitors. Planned by a young Bengaali architect, Vidyadhar Bhattacharya, Jaipur was built by Maharaja Sawai Jai Singh II in 1727 A.D. Laid in a grid system, with straight avenues, roads, streets, lanes criss cross the city with rows of shops on either side of main bazaars arranged in nine rectangular city sectors (Chowkris). The planning of the city followed the principles of Shilpaslastra, an epochal treatise on Hindu architecture. Overnight at Jaipur.
---
Day 02: Jaipur


After breakfast Full day Sightseeing for Amber fort, (Elephant Ride Optional), Afternoon sightseeing at City Palace, Observatory popularly known as Jantar Mantar (World Heritage Monument) back to the Hotel.
---
Day 03: Jaipur – Mandawa – Bikaner


This morning after breakfast drive to Mandawa. Upon arrival check in at hotel. After lunch visit Frescoes wall painted Havelis of Mandawa built in 18th 19th Century in Shekhawati.
Evening Free for Leisure.
Overnight at hotel.
---
Day 04: Mandawa – Bikaner


After breakfasts drive to Bikaner, en route visit beautiful havelis of Fatehpur. Upon arrival check in at hotel.
Bikaner city of the best breed camels in the world. Visit the Camel Breeding farms, Junagarh Fort, Lallgarh Palace and Fort Museum. The magnificent palace is fabricated in red sandstone and marble is embellished with mirror work, exquisite carvings and paintings, definitely a worth visiting sight. In the evening you are free to wander in the busy market area. Overnight at hotel
---
Day 05: Bikaner-Jaisalmer

After breakfast drive to Jaisalmer, Upon arrival check in at hotel.
About Jaisalmer: Founded in 1156, Jaiselmer's strategic position on the camel-train routes between India and Central Asia brought it great wealth. The merchants and towns people built magnificent houses and mansions, exquisitely carved from wood and sandstone. Jaisalmer experienced its share of sieges and sackings, with an inevitable Rajput jaguar in the 13th century after a siege that lasted eight years.
In the evening your will visit sunset at Royal Cenotaphs. Overnight at the Hotel.
---
Day 06: Jaisalmer – Sam Sand Dunes

After breakfast full day sightseeing which includes Jaisalmer fort & temples, Salim Singh ji's & other havelis. Late afternoon drive to Sam Sand dunes; Enjoy Camel Safari.
Late in the evening you will enjoy Folk Dance and Gala Dinner at Camp Site.
Dinner and Overnight at Camps at Sam.
---
Day 07: Jaisalmer - Jodhpur

After breakfast drive to Jodhpur. Check in at hotel.
About Jodhpur: Jodhpur history revolves around the Rathore Clan. Rao Jodha, the chief of the Rathore clan, is credited with the origin of Jodhpur in India. He founded Jodhpur in 1459. The city is named after him only. It was previously known as Marwar. Overnight at Hotel.
---
Day 08: Jodhpur – Mount Abu


After breakfast drive to Jodhpur en route visit Ranakpur Jain Temple.
About Mount Abu:-During the period of the Maharaja's, it was used as a place of leisure by the royalties and semi-royalties. The place presents an interesting contrast of British style bungalows and holiday lodges of the royals (Thikhana) with various tribal communities residing amidst the thick lush forest on the hills surrounding the region. The flora and fauna enjoys the adulation of the tourist to the fullest. The highest point of the Aravali is the 'Guru Shikhar' Upon arrival check in at hotel.
Overnight at Hotel.
---
Day 9: Mount Abu


After breakfasts you will be taken for visit of Delwara Temple and Guru Shikhar. Afternoon you are free to relax at hotel. Evening enjoy at Mall road near to Nakki Lake.
Overnight at hotel.
---
Day 10: Mount Abu-Udaipur


Morning relax at hotel.
Afternoon check out and drive to Udaipur.
About Udaipur: Udaipur is often called 'Venice of the East'. It is also the 'city of lakes'. The Lake Palace (Jag Niwas) located in the middle of Pichola Lake is the finest example of architectural and cultural marvel. The grand City Palace on the banks of the lake along with the Monsoon Palace (Sajjan Garh) on the hill above enhances the beauty of this magnificent city. Udaipur is also the centre for performing arts, crafts and its famed miniature paintings.
Overnight at Hotel.
---
Day 11: Udaipur
After Breakfast sightseeing of Udaipur visiting The City Palace and its Museums, Saheliyon Ki Bari a small ornamental garden Jagdish temple & local Bazar. Late afternoon enjoy boat- ride on Lake Pichola visiting many Ghats (banks) of washing, bathing etc and enjoy excellent views of the Lake Palace and City Palace. Overnight at Hotel.
---
Day 12: Udaipur / Mumbai (by flight)
After Breakfast transfer to Udaipur Airport to connect flight for Mumbai.
---